Punjabi Sad Status is mostly used by the Punjabi people ( Girls/Boys). Every Person has Smartphone with Whatsapp on their phones. They also search for the Punjabi sad Status Lines and Punjabi Love Status. Our Site provides the best Sad status in Punjabi, Love Status In Punjabi, and Status For Whatsapp In Punjabi, For all the people that are in a sad mood. This is fully Punjabi Sad Status in the Punjabi Language. You can get Punjabi Status Lines and Status For Whatsapp In Punjabi. The best collection of Punjabi Sad Status For Whatsapp In Punjabi is given below. check this Punjabi Sad Status and show your status to friends Girlfriends, Parents etc. Whatever theme of Punjabi Status it may be, you are sure to find one that is perfect for you.
Punjabi Sad Status Lines | Punjabi Shayari | Punjabi Sad Status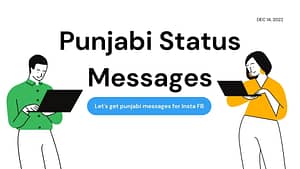 Ik Kudi bhalan tureya Mudeya nahi..
Pawe Najri ta Fad kol rakh lena.
Mera Je kise dekheya ta benti ae das dena.. 😍
---
Mai ena pyar tainu kita c khud apna aap bhula baitha, 😍😘
Eko jind nimani c oh v tere naa te la baitha,
Happy tainu dkhn de lyi jyonda bus tainu takna chaunda,
Usto tera nam hi mitea nhi unj sab kuj dilo mita baitha…Punjabi Sad Status
---
Aakhiya De kolo Sada Reh sajna,
Assi Lakh War Tak Ke Vi Nahi Rajna.
Mukhra Na Mori Sada Zor Koi Na.
Kade Chaad Ke Na Javi Sada Hor Koi Na.😎
---
Naseeba de lekh koi mod nai sakda.
Hove rabb te aitbar koi tod nai sakda.
Sache pyar ta milde ne naseeb naal.
Lakh chah ke vi kise naal rishta koi jod nai sakda…
---
sanu dukh nhi is gal da ki.
sari duniya ne sanu chad dita.
par ene vi ki sadi kismat madi 😂.
jo tu wi sanu dil chon kad dita.
---
Shad Dila Ohda Bi Jikar Karna..
Ohne Bi Ta Shad dita Tera Fikar Karna.🙄.
---
Long Punjabi Sad Status | Punjabi Love Status | Love Status In Punjabi
Aj Te Yar Skoon Ni Aya..
MENU TERA FON NI AYA..
Eni V Ki Beprwaii?
Teri Koi Miscal v Ni i..
Tu Dil Apna Kithe Laya?
Menu Tera Fon ni aya..
J Ni Balnce Te ethon Kallan!.
Fer Kran Ge Rj Rj Gallan..
Kede Lyi A Maal Kmaya?
Menu Tera Fon ni aya..
J Dil Kidhre La Betha en..
Meri Yad Bhula Betha en..
Mere Gul Wich Pa De Phaya..
Menu Tera Fon ni aya..
Aj Dihari Okhi Lngi..
Na E Surma Te Na E Kngi..
Zulfan Nu V Tail Ni Laya..
MENU TERA FONE NI AYA.
---
Bai herfaan te lafzaan di yaara,
Asi kujh k ta vadeai kar laie.
Kyu mar gyi insaaniyet vich Peshawar de,
Challo yaaro !bahut hoeya ik haunka es lai vi bhar laie
---
Don't Miss This:- Hindi song lyrics captions for Instagram
Gal dil vali mere kolo das ni hundi,.
Chaundi mainu v eh oho per sang jandi e .
Khende pyar vali gal akha rahi samji jandi .
Samje ta j oh akha vich dekhe.
Nivi pa k ta kolo seda lang jandi ee,….
Unj nit hi staundi rehndi aa.
Rati supne ch pyar paa lya.
Unj chahe lage nhi lagdi.
Ratti supne ch gal la lya.
Khendi tere bina reh ni sakdi.
Tainu eh gal dasdi aa.
Veh mai pyar tainu bhera krdi tahi dekh tainu hasdi aa.
Veh HAPPY jaan meri tu banea tainu inj apne bna lya.
Unj chahe lage nhi lagdi.
Raati supne ch gal la lya.
---
ਜੇ ਤੂੰ ਗੱਲ ਨਾਲ ਲਾ ਲਵੇਂ ਮੈਨੂੰ , ਮੈਂ ਰੱਬ ਨੂੰ ਵਿਸਾਰ ਦਿਆਂ💞💞
ਤੈਥੋਂ ਜਾਵੇ ਨਾ ਸਾਂਭਿਆ , ਐਨਾ ਤੈਨੂੰ ਪਿਆਰ ਦਿਆਂ 💞💞
Je tu Gall Naal La Lawe Menu, Mai #RAB nu visaar deya 💞💞
Tetho Jaawe Na Sambheya , Aina Tenu Pyaar Deya.. 💞💞
---
2 Lines Punjabi Shayari | Status For Whatsapp In Punjabi
Sham Nu Thak Tutt Ke Jhopde Ch So Janda Hai Oh Mazdoor, Jo Shehar Diyan Uchian Imartan Banaunda Hai..
Kal Ik Insaan Roti Mang Ke Lai Gaya Te Crore'an Diyan Duawan De Gaya, Pta Hi Ni Chaleya Ki Gareeb Oh C Ya Main.
Deedar Di Talab Howe Tan Nazran Tika Ke Rakhin, Kyu Ki "Naqab" Howe Ya "Naseeb" Sarakda Zarur Hai.
Asin Tan Pagal Aaa, Shaunk-E-Shayari De Naam Te Hi Dil Di Gal Keh Jaane Aa, Kayi Lok Tan Geeta Te Hath Rakh Ke Bhi Sach Nahi Bolde .
---
Punjabi Shayari | Images Punjabi Shayari
ਇੱਕ ਮੈਡਲ ਮੇਰੇ ਆਲੀ ਨੂੰ ਵੀ ਦੇ ਦਿਓ,
ਵਧੀਆ ਖੇਡ ਕੇ ਗਈ ਆ ਮੇਰੇ ਦਿਲ ਨਾਲ …
ਸੋਚ ਕੇ ਮਨ ਭਰ ਜਾਂਦਾ ਅਪਣੀ ਅਜਬ ਕਹਾਣੀ ਨੂੰ..
ਲੇਖੇ ਲਾਉਣ ਨੂੰ ਫਿਰਦਾ ਸੀ ਮੈ ਏਹ ਜਿੰਦ ਨਿਮਾਣੀ ਨੂੰ..
BaCkSiDe ਜੋ ਕਰਨ ਗੱਲਾ #ਆਪਾ ਨਹੀ ਕਰਦੇ mind..✌️
ਸਾਨੂੰ ਸਭ ਪਤਾ ਕੌਣ ਕਿੱਦਾ ਦਾ..¤ We r noT
bLinD…
ਜਿਨਾਂ ਉਡਣਾ ਹਵਾ ਦੇ ਵਿੱਚ ਉਡ ਸੱਜਣਾ
ਅਖੀਰ ਨੂੰ ਜਮੀਨ ਦੇ ਹੀ ਉਤੇ ਆਉਣਾ ਏ ।
ਜੇ ਛੱਡਣਾ ਏ ਤਾਂ ਏਦਾਂ ਛੱਡ ਕੇ ਜਾਵੀਂ
ਨਾ ਯਾਦ ਕਰੀ ਨਾ ਯਾਦ ਆਵੀਂ।
Incoming Serach Terms:-